RIFT not running on your dedicated GPU?
Welcome to the world of configurable/switchable graphics for laptops with integrated and dedicated graphics.
In this case a combination of NVIDIA's GeForce GTX 860M GPU and Intel's integrated HD 4600 chip.
I've been playing RIFT for a bit this month, and even though my PC is above system recommendations, it can't run this game well at all.

It seems switchable graphics isn't fully there yet in terms of optimization because it simply does not want to kick in the GeForce GTX 860M for this game.
NVIDIA's Optimus Technology is meant to conserve battery life by using the less powerhungry chip when graphic performance isn't prioritized. This is indeed practical, considering I'm mainly using a laptop for my studies, and at the same time interested in using my PC for gaming. Unfortunately the switch between the integrated and dedicated graphics processor doesn't seem to always work, which renders it useless…
Attempted solutions
Changing the program settings in the NVIDIA Control Panel for the game to run on high performance.
Manually starting the game from the installation directory by right-clicking and choosing 'Run with graphics processor' -> 'High-performance NVIDIA processor'.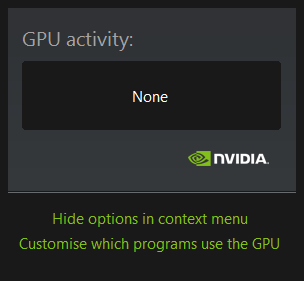 I am of course not sure wether or not it's Trion Worlds (RIFT's developer and publisher) or NVIDIA who's at fault here to be honest. I only aim to shed light to the matter so it can hopefully, one day, be fixed.
I have made threads about this issue previously on both the RIFT and GeForce support forums, but to no official answer as of yet. You can see the forum threads below for reference.
– RIFT Tech Support forum
– GeForce Drivers Support forum
If I give up on shamelessly bumping these threads, we may never hear anything, so feel free to "Take Up The Torch" in my stead.