The idea for this Ryzen APU build came after researching different small form factor PC chassis. Most mini-ITX / m–ITX form factor chassis support a dedicated graphics card, but with the launch of AMD's Ryzen APUs, Ryzen 3 2200G and Ryzen 5 2400G, the viability for even smaller systems has increased.
APU (Accelereated Processing Unit) is used in place of the traditional CPU (Central Processing Unit) and comes with integrated graphics. The AMD Ryzen APUs are powerful enough to handle most games on low to medium graphic settings on Full HD / 1080p resolutions. Hence the reason to actually being able to call this build a gaming PC.
I myself have built numerous amount of gaming PC's for almost a decade, and only now with the Ryzen APUs have I seen the potential to a system without a dedicated GPU (graphics card).
PC chassis: In-win Chopin
What makes this build is the chassis, and for this build the In-win Chopin was chosen. This very small form factor PC chassis is ideal in terms of build quality and size. In-win have designed Chopin for APUs in mind, and In-win even categorizes this is a gaming PC case. The chassis also comes with a 150W 80 Plus Bronze power supply, which is more than enough for both Ryzen 3 2200G and Ryzen 5 2400G.
It's a very small chassis, and the only con I can note is the difficulty the build can be due to it's size. This is to be expected and In-win has really made the most out of it and I can only recommend this chassis for anyone interested in a similar build with either Ryzen 2200G or 2400G.
Ryzen APU gaming PC specs
Technical specifications of all the components for this Gaming PC system with AMD Ryzen APU and Radeon RX Vega integrated graphics.
APU: AMD Ryzen 2400G
iGPU: AMD Radeon RX Vega 11
Cooler: Noctua NH-L9a-AM4
Motherboard: ASRock Fatal1ty AB350 Gaming-ITX/ac
RAM: 16GB (2x8GB) Corsair Vengeance LPX 3200 MHz DDR4
SSD: 512GB Sabrent Rocket NVMe M.2; 500GB Samsung EVO 860
OS: Windows 10 Pro 64-bit
PSU: 150W 80 Plus Bronze
Chassis: In-win Chopin (silver)
Update: the motherboard had a malfunction and has now been replaced with GIGABYTE B450 I AORUS PRO WIFI. Changed to the B450 chipset and GIGABYTE / AORUS gaming motherboard since the supplier no longer had the ASRock Fatal1ty AB350 Gaming-ITX/ac in stock.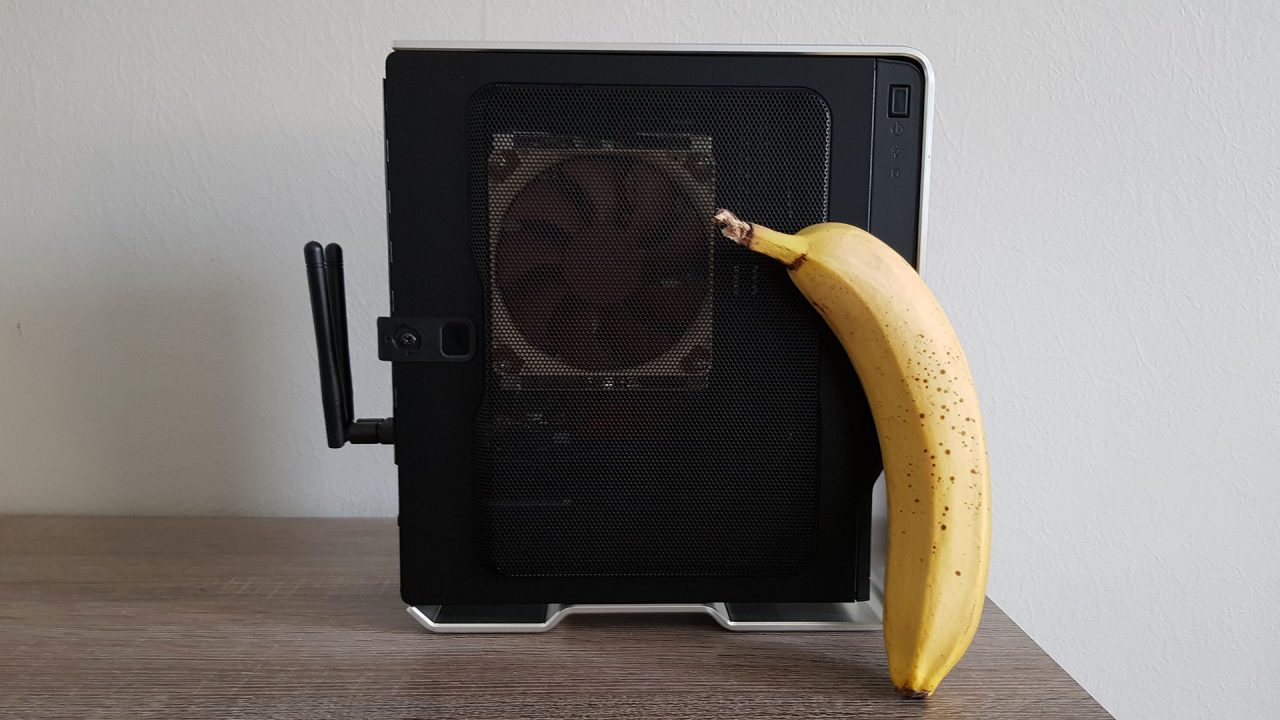 Ryzen 2. gen and Ryzen 3. gen. APUs
So far very little is know about the specifications of the upcoming Ryzen 3000 series (3. gen) APUs. At the AMD keynote during Computex 2019, a launch was announced for July 2019. However, no specific information regarding the APUs for the Ryzen 3000-series have been officially announced. According to leaks regarding specifications, it would seem the 3. gen Ryzen APUs does not improve on the graphics other than increased clock speeds. If this is true the 2. gen is still very viable and perhaps the best value. Once official information is released and reviewers (or myself) have had a chance to test the new Ryzen 3.gen APUs, I will update this article.