I recently got myself the portable capture card AVerMedia LGP Lite GL310 to try out streaming.
The capture card comes with a recording software: AVerMedia RECentral, but this is in my opinion not very good because you can't seem to add anything else to the capture (e.g. webcam feed; pictures, etc.).
I then ended up with going for another free streaming software: Open Broadcaster Software, or OBS for short. I did run into some problems getting it to work in the beginning so I thought I'd write about it in case it would help others out.
PS: I am running Windows 8.1 Pro 64-bit, and this guide may only help those who use Windows operating systems.
Setup for AverMedia with OBS
Here's a few guidelines for making your AVerMedia capture card work with OBS:
Make sure you have AVerMedia Steam Engine installed. This is important if you want it to work with other broadcasting softwares, in this case OBS. You can download the steam engine from AVerMedia's download tab from your capture card's product page.
Run the 32-bit version of OBS. Many usually run the 64-bit version, but to add the AVerMedia Steam Engine to OBS it is only (currently) possible with the 32-bit version. To open the 32-bit version of OBS, it's in it's own 32-bit installation directory located by default here: 'C:\Program Files (x86)\OBS/'.
Now it's time to add the AVerMedia Steam Engine to OBS. I'll show you how to do this with the images below (click on the images for full size).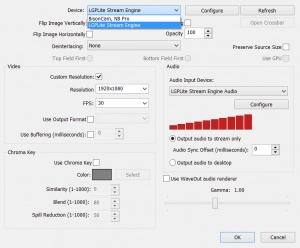 That should be it! This was at least what I was having problems with when first trying it out, so hopefully adding the steam engine was all it took for your AVerMedia capture card to work with OBS as well.